How to get to Huanghuacheng Great Wall from Beijing?Huanghuacheng (Yellow flower city) Great Wall is named because of the widespread yellow flowers. It has been under construction for 188 years since 1404. The total length of the Huanghuacheng section is about 12.4km with 40 hollow watchtowers, 9 concrete watchtowers, 5 wall units, and 8 mountain passes. It is carefully constructed at a strategic location, making it a hotly contested spot since ancient time.
It is nicknamed as the Great Wall under Water because some low-lying sections of the wall were submerged in water for the construction of a reservoir, which presents unique scenery.
The climate here is warm temperate semi-humid, which is humid in summer and cold in winter with less snow. The average temperature is 9℃ to 13℃, and the best time for visit is from April to October.
Located in Jiuduhe Town, about 70 kilometers from Beijing and 35 kilometers from Huairou downtown, Huanghuacheng Great Wall is at longitude 116°17′-116°63′ East and situated between 40°41′-41°4′ North.
---
Three features:
1. This section of Great Wall preserves its natural characteristics that maintains the original scene in Ming Dynasty.
2. This section of Great Wall is stone-structured, making it strong and firm as iron.
3. Three sections of Huanghuacheng Great Wall is under the lake water, presenting a scene of lakeside Great Wall.
During your visit, you will walk through ancient path, wood bridge, pass strange stone and reach Black Dragon Pool. Also you can enjoy the scenery of Zicui Peak, Biyu Pool, Zuinv Mountain, Shilang Valley, Qingren Peak and three ponds.
---
Hot spots:
Haoming Lake: the largest breeding base for wild mandarin ducks. Around October, there will be a large number of mandarin ducks gathering at Haoming Lake, as the scenery here is beautiful and the quality of water is good. There are many fishes for the mandarin ducks. As the water is deep, there are big fishes for tourists to fish.
Sand beach:
there is a sand beach near the entrance of Haoming Lake, and the sands are fine with pure water, making it a good place for children to paddle.
Ming Dynasty Chestnut Garden: covering an area of more than a hundred acre, there are more than 40 ancient trees with an average year of more than 500 years. These trees are planted in Ming Dynasty. In June, the chestnut flowers are in full blossom, forming its unique scenery and providing the farmers here a good living atmosphere. The chestnuts here are delicious.
Qingling Valley. Located at Dark Dragon Pool, Qingling Valley is a good place for tourists to go for summer holiday.
---
There are 3 routes for you to choose
1. the most tiring route: Ximen Dam — entrance of Great Wall—— Great Wall breakup——Central peninsula——sand beach/chestnut garden—— Black Dragon Pool ——Central Peninsula——Entrance  (4 Hours)
2. the most relaxing route: central Peninsula (by boat for 5 min)—— sand beach/chestnut garden—— central peninsula (40 min, best for the old people and children)
3. normal route: Ximen dam——Dingxiang Route ——Great Wall Breakup (for underwater scenery of Great Wall, central peninsula, sand beach, chestnut garden  1.5 hours)
---
Time:
Slack season: 08:00-16:30
Peak season: 08:00-17:00
Price:
Adult: CNY 45
Students/old people/ soldier: CNY 22
Ticket Package A:(ticket+roundabout boat ticket) CNY 75
Ticket Package B:(ticket+single way boat ticket) CNY 60
---
How to get to Huanghuacheng Great wall from Beijing
Option 1: You can take bus to Huanghuacheng Great Wall
Route1: Dongzhimen Bus station (NO.916)—— 3RD Nanhua Park zone ——100meter's walk to 4th Nanhua Park Zone —— Huairou-Lakeside Great wall special bus
Route2: Changping bus station/ Changping Changling Road (Changping- Jiuduhe Special bus)——Jiuduhe Patrol station——Huairou-Lakeside Great wall special bus
Option 2:You can also take travel bus
S1: Dongzhimen Bus Station (8:00-9:00) on weekends and holidays
S2: Northeast corner of Xuanwumen (07:30-08:30)on weekends and holidays
Option 3: Hire a car with driver to Great wall by Mr orange transfer
---
Tariff  (Pls note our price is per car, NOT per person):
---
General information:
Departure time: 7:00 am (suggest time, subject to change based on your request)
Estimated returning time: 6:00 pm
Transfer duration: 2.5 hours
Include: Driver, Fuel, Parking fee, Toll fee
Exclude: Lunch, Entrance tickets, Gratitude for a good job
Pick up point: Your hotel in down town Beijing
Drop off point: Your hotel in down town Beijing
---

---
Why rent a car with driver?
Travelling to new places is intended to be fun and luxurious. However, this always comes with a cost; a cost of time, a cost of money, and a cost of effort. That is where we come in. Our car rental service is made and designed in a very flexible way that can be tailored to your specific needs at every specific moment. You will be driven to the Great Wall while you relax and only wait to arrive.
The Efficient Service
We have a topnotch service with fully licensed drivers that know the ins and outs of China. They will cater to your every need besides just driving. They can help you pay your tickets out and to attend to lunch breaks during your visit whenever you feel it's necessary.Our vehicles are new. They are equipped with every accessory you would need like air-conditioning, air bags, seat belts, fire extinguishers, and more.
You Get To Save
Unlike the inconveniences you would get from having to look for taxi cabs and incur huge charges, our team would stay with you all day long. If you experience difficulties, you can always call our customer service: 0086-13910694045.You can keep the driver and the car for hours and your rates will be customized to suit you.There are no hidden charges and you get what you see.
You Are Flexible
You can always call for the service at any time, even very early in the morning. You will be taken to wherever it is you want to go, and you can stay there for as long as you feel you want to.You are also able to come with up to 4 friends if you like. This will help you to save on money just as much as it would be more fun.Our driver speaks a little English and will help you overcome many hurdles in communication during difficulty. You may need to download Chinese basic English cheat sheet to speak with the driver though.
---
Why choose us:

We provide 7*24 hours English speaking customer service and our driver will help you to buy entrance ticket

Absolutely NO shopping, NO detour, NO factory tour.

Driver dress in formal, Well behaved, with clean car and reliable service every time

Book a taxi within minutes and pay by cash or card (online)

We don't spend a cent on any costly advertising to make our price 20% cheaper than competitors.

Vehicles are equipped with Car Air Purifier, We ensure the density of pm2.5 is under 100 in car


---
Before getting to Beijing
you are advised to find the information below via this site: http://orange-transfer.com/track-your-trip/. All information will be updated only 24 hours ahead of your arrival date.
Driver's name
Driver's photo
Driver's contact Number
Vehicle's plate Number
Vehicle's branding

---
Our Vehicles:
Our vehicles are equipped with GPS system and in car WI-FI device.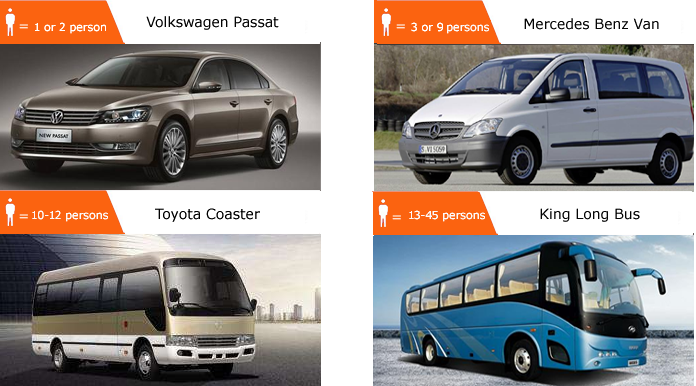 ---
Capacity: