How to get to Huangyaguan Great Wall from Beijing?Huangyaguan Great Wall is situated in the mountainous area of Ji County in Tianjin City, 28km away from north Ji County. In history, Huangyaguan pass is one of the most important passes with barbicans, turrets, emplacements, barracks and other indispensable military facilities orderly arranged. It is the north gate for Ji County. It was listed as one of the Cultural Heritage Sites by UNESCO and awarded as the 4A scenic area.
---
Huangyaguan Great Wall is located in then northern Xiaying Village of Ji County, Tianjin. It was originally built in 556A.D., and was  repaired by General Qi Jiguang in the Ming Dynasty. There are two sections of the restored great wall with the pass or the castle in the middle nestled in a valley flanked by Banlagang Mountain (Half a Clinder Mountain) in the west and Wangmaoding Mountain in the east, with a total length of 3025 meters.
Huangyaguan Great Wall acquired its name due to the yellow cliffs around the Great Wall. As the cliffs contain iron element, when the sunlight shines, there will be metal luster on it, giving it the name Huangyaguan. At present, Huangyaguan Great Wall is regarded as the masterpiece in the history of Great Wall construction for its various change in landscape, intelligence in distribution and comprehensiveness in its facilities. The Great Wall Museum, Water Gate and Bagua City are also fabulous.
The best time to visit Huangyaguan Great Wall is in Autumn. There are two parts for you to visit. One is the Taipingzhai scenic area in the east and the other is the Bagua City scenic area. Taipingzhai Great Wall is built on the ridge 800 meters above the sea level. The terrain is strategic and the scenery is beautiful. Huangyaguan Great Wall is considered to be a miniature of the Great Wall of China. As for the other part, Bagua City was built on the idea of Eight Diagrams. The Bagua city covers an area of 40000 square meters with a complex distribution. People usually get in and get puzzled. So Bagua city is also called Bagua Labyrinth. The walls here are featured by bricks and stones. The shape of watch towers varies, and the beacon towers are varied, making the Great Wall majestic, dangerous, fabulous and ancient. Due to the restoration project, it lost some ancient feature to some degree, but it still worth climbing.
---
It is advised to spend 3-4 hours visiting Huangyaguan Great Wall.
If you visit the Great Wall with children, you can take them to the water park near Baxian Lake in the east entrance of Huangyaguan Great Wall.
If you are interested in eight diagrams and book of changes, you can go to Bagua City built in Ming Dynasty. Its layout follows the principle of eight diagrams, making the whole area a Bagua Labyrinth.
If you are interested in Chinese Calligraphy, there is Calligraphy stele in Bagua City, which is the biggest one in Northern China. In Changsha garden, there are 10003 kinds of "寿"(pronounce as Shou, literally mean Long life). This has been recorded by genius world record. Also, there is a wall shadow carved in the shape of "寿". There are more than 30 "寿"written by famous calligraphers in China history. The biggest one is written by the famous calligrapher in Yuan Dynasty. His regular script has been copied by later generations.
If you are interested in history, you can go Great Wall Museum. This is the first museum about Great Wall history. In the museum, there exhibits evolutionary information about China Ancient Great Wall and Great Wall in Ji County, as well as weapons used by General Qi Jiguang and his soldiers.
If you are interested in architecture, you can go widow tower. To the west of Taiping Stronghold stands a square tower named the Widow Tower, which is a two-storey beacon tower donated by twelve women whose husbands helped to build Huangyaguan Great Wall but lost their life during the construction.It functioned as a military fortress during the wartime with crenels and emplacements built on the second floor. It is also a piece of architectural artwork worth a close viewing. You can find dragon's head sculptures on two sides of the roof, and figurines of kylins, phoenixes, and lions crouching at the four points of the eave. Its population capacity is ten.
If you are interested in doing sports, you can climb from the bottom of Huangyaguan Great Wall. The whole trip starts from the widow tower in the east and ends in Wangmaoding Mountain in the west. The total length is 2152 meters. What should be noticed is that the scenery of Huangyaguan Great Wall is more magnificent than that of Badaling Great Wall. It will take more efforts to get to the top.
---
Opening Time
08:30-17:00
Ticket Price
ADULT: CNY 70
STUDENT: CNY 40
OLD PEOPLE AGED FROM 60-69: CNY 40
CHILDREN UNDER 1.2M, PEOPLE OVER 70 YEARS OLD, SOLDIERS AND DISABLES ARE FREE FOR ENTRANCE.
---
How to get to Huangyaguan Great Wall from Beijing downtown?
Option 1:Take a train from Beijing South Railway Station to Tianjin Railway Station (06:07-06:37). The ticket price is CNY 88, CNY54.5 and CNY 174 for the first class seat, second class seat and business seat. Then, take a train from Tianjin Railway Station to Jizhou North Railway Station (07:24-09:59). The ticket price is CNY 18.5 and CNY16.5. Then take the coach to Huangyaguan Great Wall. There is only one train from Tianjin to Ji County. If you miss the train, you have to take the train to North Railway station of Ji County. The schedule is 12:23, 18:10 and 19:08.
Option 2:Take a long-distance bus from Beijing Sihui Long-Distance Bus Station to Jixian County. The bus runs from 6:40 to 19:30 with an interval of about 10-20 minutes.Get off at West Ji County and take the coach to the Huangyaguan Great Wall.
Option 3: Hire a car with driver to Great wall by Mr orange transfer
---
Tariff  (Pls note our price is per car, NOT per person):
---
General information:
Departure time: 7:00 am (suggest time, subject to change based on your request)
Estimated returning time: 6:00 pm
Transfer duration: 2.5 hours
Include: Driver, Fuel, Parking fee, Toll fee
Exclude: Lunch, Entrance tickets, Gratitude for a good job
Pick up point: Your hotel in down town Beijing
Drop off point: Your hotel in down town Beijing
---

---
Why rent a car with driver?
Travelling to new places is intended to be fun and luxurious. However, this always comes with a cost; a cost of time, a cost of money, and a cost of effort. That is where we come in. Our car rental service is made and designed in a very flexible way that can be tailored to your specific needs at every specific moment. You will be driven to the Great Wall while you relax and only wait to arrive.
The Efficient Service
We have a topnotch service with fully licensed drivers that know the ins and outs of China. They will cater to your every need besides just driving. They can help you pay your tickets out and to attend to lunch breaks during your visit whenever you feel it's necessary.Our vehicles are new. They are equipped with every accessory you would need like air-conditioning, air bags, seat belts, fire extinguishers, and more.
You Get To Save
Unlike the inconveniences you would get from having to look for taxi cabs and incur huge charges, our team would stay with you all day long. If you experience difficulties, you can always call our customer service: 0086-13910694045.You can keep the driver and the car for hours and your rates will be customized to suit you.There are no hidden charges and you get what you see.
You Are Flexible
You can always call for the service at any time, even very early in the morning. You will be taken to wherever it is you want to go, and you can stay there for as long as you feel you want to.You are also able to come with up to 4 friends if you like. This will help you to save on money just as much as it would be more fun.Our driver speaks a little English and will help you overcome many hurdles in communication during difficulty. You may need to download Chinese basic English cheat sheet to speak with the driver though.
---
Why choose us:

We provide 7*24 hours English speaking customer service and our driver will help you to buy entrance ticket

Absolutely NO shopping, NO detour, NO factory tour.

Driver dress in formal, Well behaved, with clean car and reliable service every time

Book a taxi within minutes and pay by cash or card (online)

We don't spend a cent on any costly advertising to make our price 20% cheaper than competitors.

Vehicles are equipped with Car Air Purifier, We ensure the density of pm2.5 is under 100 in car


---
Before getting to Beijing
you are advised to find the information below via this site: http://orange-transfer.com/track-your-trip/. All information will be updated only 24 hours ahead of your arrival date.
Driver's name
Driver's photo
Driver's contact Number
Vehicle's plate Number
Vehicle's branding

---
Our Vehicles:
Our vehicles are equipped with GPS system and in car WI-FI device.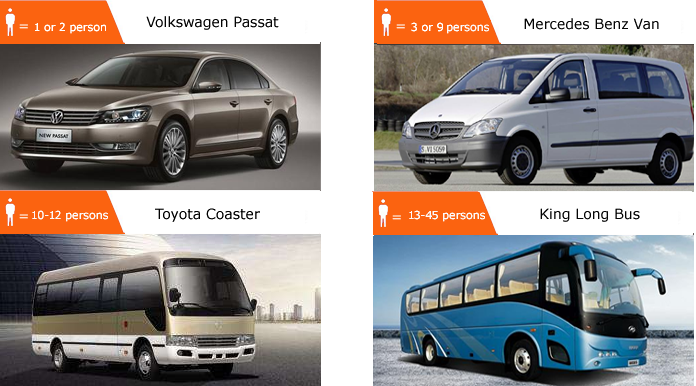 ---
Capacity: