How to get to Jinshanling Great Wall from Beijing?Jinshanling Great Wall was first built in the year of 1368. General Xuda supervised and directed the construction of the Great Wall. The elevation of Jinshanling Great Wall is 700 meters. Located at the joint area of Beijing, Tianjin, Liaoning Province and Mongolia, the total length of this section is 10.5 km. Jinshanling Great Wall lies in the mountainous area of Luanping County, Heibei Province, 130 km northeast of Beijing downtown, 90km away from Chengde mountain resort and 200km away from Mulan Paddock. Jinshanling Great Wall is an essential part of China Great Wall.
Most pictures were taken from Simatai or Jinshanling. Actually Jinshanling Great Wall and Simatai Great Wall connects Beijing to Heibei Province. The Great Wall on the side of Luanping County Hebei Province is called Jinshanling Great Wall, while that on the side of Miyu County Beijing is called Simatai Great Wall. As a part of China Great Wall, Jinshanling Great Wall was listed in World Cultural Heritage List in 1987, and has been awarded as the national scenic spot, national 5A tourist spot. Jinshanling Great Wall has been listed the 7th of the top 10 autumn scenery by Chinese National Geography. It is a paradise for photographers to take pictures. On November 15th 1992, Ke Shouliang successfully flied over it.
Jinshanling Great Wall is the best-preserved section of Ming Dynasty Great Wall. It has five main passes, 67 watchtowers and 2 beacon towers, making it the essence of Ming Dynasty Great Wall. The distance between the towers ranges from 60 meters to 200 meters. Featuring various structures and having various functions, those watchtowers are either one-tiered or two-tiered. On the first floor there are some windows for shooting arrows. The roofs of the towers are many and varied, flat, arched, quadrangular or octagonal. Some are used to store weapons and hay. Others are used as soldiers' bedrooms. Among them, the most celebrated are the Big and Small Jinshan Watchtowers. Though this section has not been restored without steps, it remains to be a broken Great Wall with wild feature.
There is a 1000-meter-long cable way in this section. However, the cable way is not available in the east gate of the scenic area. Tourists have to walke through more than 1000 steps to the east of five hole tower. Cable way is availabe at the west gate, and tourists can take the cable way to get small Jinshan watch tower. Go eastward, there are 11 watch towers and east five hole tower. Go down from the east five hole tower, you will reach the east gate of the scenic spot. Mental stairs are used for tourists to go up and down at east five hole tower. The five hole tower gets its name as there are 5 arrow holes. You will reach Kylin Tower when you pass east 5 hole tower, and then you will see the wall made of literal bricks. Go westward and there will be 12 watch towers, and then youwill reach west 5 hole tower. Go down from crenel, you will reach the west gate.
The scenic area has built a 3km night Great Wall, which provides more entertainment activities for tourists visiting Jinshanling Great Wall. There are ramp way, blind lane, barrier-free parking lot, lower position ticket office, barrier-free toilet, lower position telephone. As there are few people visiting Jianshanling Great Wall, and there is no rough road, making it a best choice for people to go hiking. The scenery here is magnificent whether at sunrise or sunset. There will be mist and rainbow after rain in Summer and Autumn. These are unique scenery for Jinshanling Great Wall. You have to climb it at 4 am in summer, if you want to watch sunrise. There is no cable way for you to get the top, so you have to climb by yourself. If you want to watch sunset, you should not go down until 20 pm. The best time for photographers to take pictures here is from May to October.
---
Tips:
1. There are 24 watch towers that maintain the original appearance.
2. It is about 10 km from Jinshanling Great Wall to Simatai Great Wall, which will take you 4 hours.
3. You don't have to go back when climbing Jinshanling Great Wall.
How to get to Jinshanling Great Wall from Beijing?
Option 1: Dongzhimen Station (NO. 980 expressway)——Miyun Children's Palace—— Take Expressway to Jinshanling Great Wall
Option 2: Xizhimen Station (NO.16, NO.16 branch line or Yuntong 105)—— Beixiaguan Station
Option 3: Xizhimen Station —— bus to Chengde —— Jinshanling scenic area
Option 4: Sihui Station ——bus to Chengdu ——Jinshanling scenic area
It is about 2 km far away from Jinshanling Great Wall if you take bus to Jinshanling scenic area. You can also take taxi to the ticket office, which will cost you 10 Yuan.
Option 5: Hire a car with driver to Great wall by Mr orange transfer
---
Tariff  (Pls note our price is per car, NOT per person):
---
General information:
Departure time: 7:00 am (suggest time, subject to change based on your request)
Estimated returning time: 6:00 pm
Transfer duration: 2.5 hours
Include: Driver, Fuel, Parking fee, Toll fee
Exclude: Lunch, Entrance tickets, Gratitude for a good job
Pick up point: Your hotel in down town Beijing
Drop off point: Your hotel in down town Beijing
---

---
Why rent a car with driver?
Travelling to new places is intended to be fun and luxurious. However, this always comes with a cost; a cost of time, a cost of money, and a cost of effort. That is where we come in. Our car rental service is made and designed in a very flexible way that can be tailored to your specific needs at every specific moment. You will be driven to the Great Wall while you relax and only wait to arrive.
The Efficient Service
We have a topnotch service with fully licensed drivers that know the ins and outs of China. They will cater to your every need besides just driving. They can help you pay your tickets out and to attend to lunch breaks during your visit whenever you feel it's necessary.Our vehicles are new. They are equipped with every accessory you would need like air-conditioning, air bags, seat belts, fire extinguishers, and more.
You Get To Save
Unlike the inconveniences you would get from having to look for taxi cabs and incur huge charges, our team would stay with you all day long. If you experience difficulties, you can always call our customer service: 0086-13910694045.You can keep the driver and the car for hours and your rates will be customized to suit you.There are no hidden charges and you get what you see.
You Are Flexible
You can always call for the service at any time, even very early in the morning. You will be taken to wherever it is you want to go, and you can stay there for as long as you feel you want to.You are also able to come with up to 4 friends if you like. This will help you to save on money just as much as it would be more fun.Our driver speaks a little English and will help you overcome many hurdles in communication during difficulty. You may need to download Chinese basic English cheat sheet to speak with the driver though.
---
Why choose us:

We provide 7*24 hours English speaking customer service and our driver will help you to buy entrance ticket

Absolutely NO shopping, NO detour, NO factory tour.

Driver dress in formal, Well behaved, with clean car and reliable service every time

Book a taxi within minutes and pay by cash or card (online)

We don't spend a cent on any costly advertising to make our price 20% cheaper than competitors.

Vehicles are equipped with Car Air Purifier, We ensure the density of pm2.5 is under 100 in car


---
Before getting to Beijing
you are advised to find the information below via this site: http://orange-transfer.com/track-your-trip/. All information will be updated only 24 hours ahead of your arrival date.
Driver's name
Driver's photo
Driver's contact Number
Vehicle's plate Number
Vehicle's branding

---
Our Vehicles:
Our vehicles are equipped with GPS system and in car WI-FI device.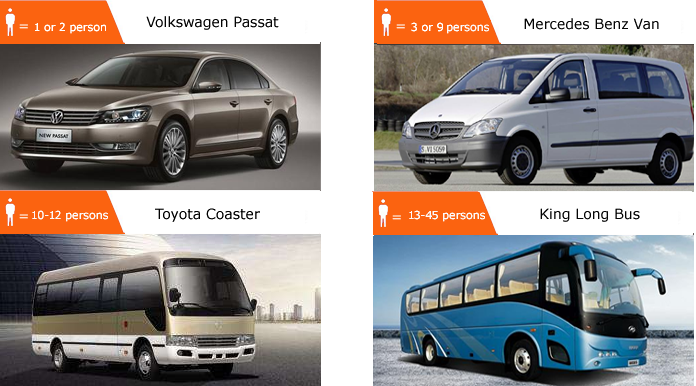 ---
Capacity: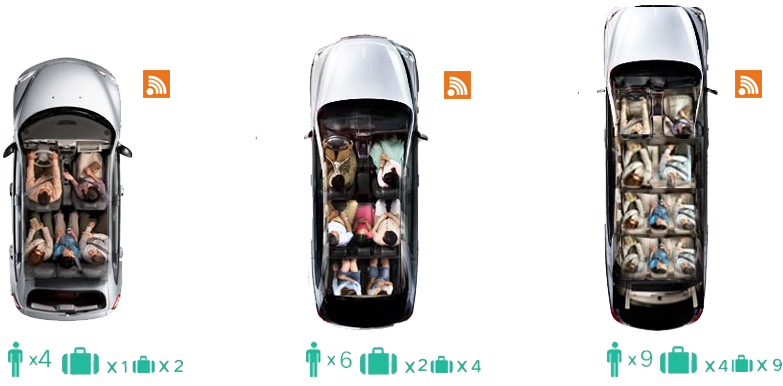 ---
Opening Time:
April 1st to October 31st 04:00-18:30
November 1st to March 31st 06:00 – 16:30
Ticket Information:
Peak season(March 16th – November 15th) CNY 65
Slack season(November 16th -March 15th the next year) CNY 55
Students with student card, and old people aged from 60 to 69 can get 50% (Peak season CNY 32 Slack season CNY 27)
People over 70 and children under 1.2m are free
Cable way (TOTAL LENGTH 1000 M  17min/trip)
Single: CNY 40
Round trip: CNY 80