How to get to Mutianyu Great Wall from Beijing,Mutianyu Great Wall has a long and profound history with blazing cultural civilization. It gains a good fame as the most fantastic section of China Great Wall. Mutianyu Great Wall has a total length of 3.4 miles (5,400 meters), making it the longest section of China Great Wall and one of the 16 sceneries of Beijing. Mutianyu Great Wall, as the 5A national tourist zone, boasts some famous scenic spots such as Zhengguantai Platform, Dajiaolou Tower, and so on. The wall body is well preserved, which wonderfully displays the ancient charm. Cable cars are available in the scenic area, and programs like China Stone Museum and Speed Sliding are developed, well-combining the Great Wall culture, stone culture, and sport culture.
Foreign political dignities like Mrs. Trump, Michelle Obama, Clinton, former Premier Major, and Bill Gates have visited Mutianyu Great Wall. Thus Mutianyu Great Wall has gain good reputation among foreigners. Foreigners from different nations visit Mutianyu Great Wall every year. It is said that more than 40% of visitors to Mutianyu Great Wall are foreigners. Mutianyu Great Wall is listed as NO.7 scenic spot of 25 world's best landmarks in 2017. The best time for you to visit here is April, May, September and October. Autumn is the best season for you enjoy the scenery here.
---
Features of Mutianyu Great Wall:
1. Over 90% vegetation coverage with various beautiful sceneries
2. Fancy beacon towers: different from Juyongguan, Shanhaiguan and Jiayuguan. Zhengguantai platform is composed of three hollow watchtowers which is rarely seen in the architectural history of Great Wall
3. Intensive watchtowers: It is about 500 meter long from Dajialou Tower to Zhengguantai Platform, and there are 4 watchtowers, which is also rare.
4. Mutianyu Great Wall has a two-sided crenel: generally there is only one crenel outside, while there are two crenels, which means fighting against the enemies in an all-round way. Thus Mutianyu section has a great strategic significance in the history.
5. Both the outer and inner parapets are crenelated with merlons, so that shots could be fired at the enemy on both sides – a feature very rare on other parts of the Great Wall.
6. Full of dimension: the lowest altitude is about 486 meter, 500 meter eastward, and the altitude is 117 meter higher. Westward from Zhengguantai Platform to NO.19 Muzitai Platform, the altitude is relatively gentle. From NO.20 Muzitai Platform to the highest point of Niujiaobian, the altitude is lifted from 486 meter to 1039 meter after passing 10 watchtowers.
7. There is a graffiti wall on the northwest of NO.14 watchtower, as well as NO.5 and NO.10 watchtower. These are used for tourists to sign their names for memories. In the future, there will be E-graffiti wall for tourists.
The Mutianyu Section of Great Wall is in Huairou County at Beijing. There are 20 beacon towers. You can reach NO.14 beacon tower by cable car, NO.6 by slide rail, NO.6, NO.8 and NO.10 by walking. If you walk to the top, it will take you about one and an half hour.
---
Opening time:
Slack season: 07:30 to 17:00 (November 15th to March 15th next year)
Peak season: 07:00 to 18:00 (March 16th to November 14th next year)
---
How to get to Mutianyu Great Wall from Beijing:
Option 1: You can take tourist line from visitor center (30 meters away from C exit of Line 2) and P1 parking lot from Mutianyu. The running time is 9:00 am and 15:30 pm. The major stations are Qianmen, Dongzhimen, Shaoyaoju Subway station, Mutianyu Great Wall roundabout. The ticket price is CNY 30.You can also take Dongzhimen tourist line from Dongzhimen Bus station and P1 parking lot. The running time in 8:30am and 16:00 pm. The ticket price is CNY 30.
From Dongzhimen Bus Station, you can take bus line 916 Express or 916 to Huairou North Avenue (Huairou Beidajie) Station. Then, transfer to bus line h24, to Mutianyu
Roundabout.
Option 2: Hire a car with driver to Great wall by Mr orange transfer
---
Tariff  (Pls note our price is per car, NOT per person):
---
General information:
Departure time: 7:00 am (suggest time, subject to change based on your request)
Estimated returning time: 6:00 pm
Transfer duration: 2.5 hours
Include: Driver, Fuel, Parking fee, Toll fee
Exclude: Lunch, Entrance tickets, Gratitude for a good job
Pick up point: Your hotel in down town Beijing
Drop off point: Your hotel in down town Beijing
---

---
Why rent a car with driver?
Travelling to new places is intended to be fun and luxurious. However, this always comes with a cost; a cost of time, a cost of money, and a cost of effort. That is where we come in. Our car rental service is made and designed in a very flexible way that can be tailored to your specific needs at every specific moment. You will be driven to the Great Wall while you relax and only wait to arrive.
The Efficient Service
We have a topnotch service with fully licensed drivers that know the ins and outs of China. They will cater to your every need besides just driving. They can help you pay your tickets out and to attend to lunch breaks during your visit whenever you feel it's necessary.Our vehicles are new. They are equipped with every accessory you would need like air-conditioning, air bags, seat belts, fire extinguishers, and more.
You Get To Save
Unlike the inconveniences you would get from having to look for taxi cabs and incur huge charges, our team would stay with you all day long. If you experience difficulties, you can always call our customer service: 0086-13910694045.You can keep the driver and the car for hours and your rates will be customized to suit you.There are no hidden charges and you get what you see.
You Are Flexible
You can always call for the service at any time, even very early in the morning. You will be taken to wherever it is you want to go, and you can stay there for as long as you feel you want to.You are also able to come with up to 4 friends if you like. This will help you to save on money just as much as it would be more fun.Our driver speaks a little English and will help you overcome many hurdles in communication during difficulty. You may need to download Chinese basic English cheat sheet to speak with the driver though.
---
Why choose us:

We provide 7*24 hours English speaking customer service and our driver will help you to buy entrance ticket

Absolutely NO shopping, NO detour, NO factory tour.

Driver dress in formal, Well behaved, with clean car and reliable service every time

Book a taxi within minutes and pay by cash or card (online)

We don't spend a cent on any costly advertising to make our price 20% cheaper than competitors.

Vehicles are equipped with Car Air Purifier, We ensure the density of pm2.5 is under 100 in car


---
Before getting to Beijing
you are advised to find the information below via this site: http://orange-transfer.com/track-your-trip/. All information will be updated only 24 hours ahead of your arrival date.
Driver's name
Driver's photo
Driver's contact Number
Vehicle's plate Number
Vehicle's branding

---
Our Vehicles:
Our vehicles are equipped with GPS system and in car WI-FI device.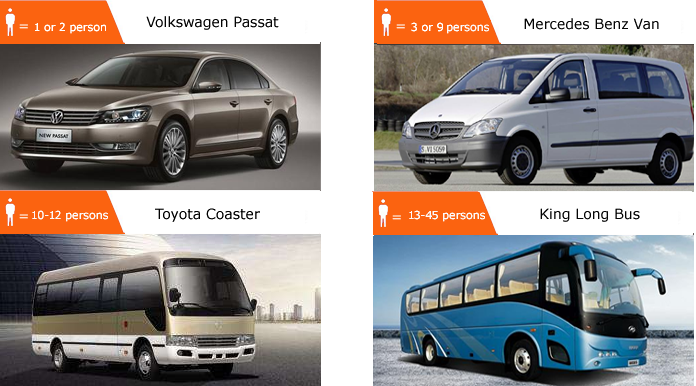 ---
Capacity: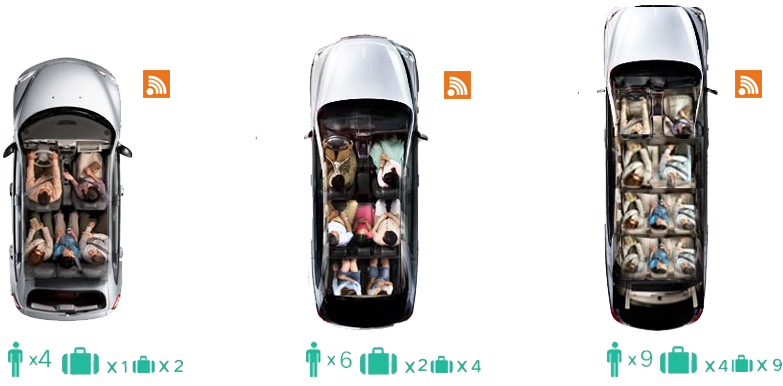 Ticket price for Mutianyu Great Wall:
Ticket+ Shuttle bus
Adult:CNY45+CNY15
Student: CNY 25+CNY15
Cableway
Round way: Adult: CNY 120  Student: CNY60
Single way: Adult CNY 100    Student CNY 60
Luge
Round way: Adult: CNY 120  Student: CNY60
Single way: Adult CNY 60    Student CNY 50
Glider Cableway
Single way: Adult CNY  50    Student CNY 50
Children under 6 years old or 1.2m are free
Cableway/ Luge:
Children under 6 years old or 1.2m are free
Children from1.2m to 1.4m buy student ticket
Children above 1.4m buy adult ticket